Offer accommodation units
Sorry, but for chosen date range and number of persons we cannot offer accommodation for this object. For given period minimum nights is 3.
Contents
Accommodate children
Object has heating
Free WiFi
Parking available
Nearby
Shopping and Foods
Supermarket
Store
Market

Zlatiborska pijaca (600m)
Reviews
9.6 / 10
Service
9.8/10
Cleanliness
9.5/10
Sleep quality
9.5/10
Location
9.5/10
Rooms
9.5/10
Kindness of staff
9.8/10
Sofija Pavlović, Sunday, 21 May 2023, Apartment Cvrčak
Smeštaj je divan, kao i domaćini. Od prvog trenutka je dogovor išao izuzetno lako i o svemu u mislili. Lokacija je savršena, dovoljno udaljena od centra da se ne može osetiti gužva, a dovoljno blizu da se laganim hodom brzo stiže. Smeštaj za svaku preporuku ☺️
9.0 / 10
Miodrag Armacki, Tuesday, 6 September 2022, Apartment Meda
Sve pohvale za smestaj.
10.0 / 10
Marija Nikolic, Thursday, 17 February 2022, Apartment Zeka
Bili smo smešteni u apartmanu Zeka. Oduševljeni smo kako su domaćini vodili računa o svemu potrebnom za vreme boravka. Apartman čist,uredan, iako su bile niske temperaturu,u apartmanu je bilo pretilo. Dvorište prelepo,uživali smo u zimskim aktivnostima. Lokacija još bolja. Blizu centra a opet ususkano,mirno. Za porodice Idealno. Domaćini ljubazni. Sve preporuke,čista 10.
9.5 / 10
Tanja, Tuesday, 31 August 2021, Room
9.8 / 10
Vila Milena i 7 patuljaka Zlatibor, Čajetina
Villa Milena and 7 Dwarfs is located in a quiet place in the village of Obudojevica on Zlatibor in Narcisa Street, near the center, bus station, market and ski slopes, so in winter you are only a few...
Need help?
We will be more than happy to assist you! Our team will answer your calls every working day from 9 am to 5 pm and Saturday 9 am to 2 pm.
Nearby objects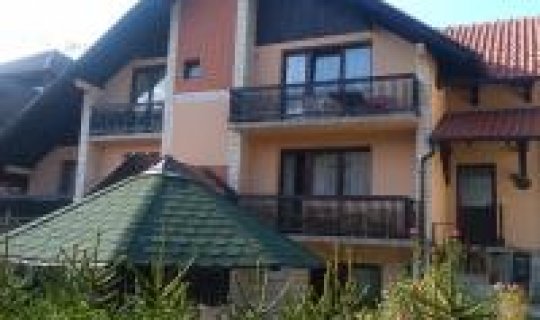 Why book with us?
Several thousands of accommodation objects